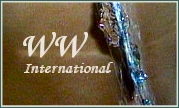 Interview with Markus Heitz
by Carol Stocks and Angelika Petrich-Hornetz
A brief interview on the sweet side of life: German author Markus Heitz holds a degree in German studies and history and has worked as a freelance writer and journalist since 2000. His books include Schatten über Ulldart (2002), the first in his six-part Ulldart series. Heitz's following soared with the publication of the first book in his Die Zwerge Fantasy trilogy in 2003.
Wirtschaftswetter: Mr. Heitz, what does the expression 'La Dolce Vita' mean to you?
Markus Heitz : Spending holidays in different countries and tasting the local foods – fruits and sweets, vegetables, fish and meat. And wine of course.
My friends and I travel around with our caravans and explore places like France – the Southern Bretagne, the Loire Valley and the South France. We stop wherever we feel like it, wherever there's a great view to take in: at lakes and rivers, at the foot of mountains and castles, even at the beach. I don't need hotels, pools and all-inclusive holidays. There's no bigger pool than the sea.
Wirtschaftswetter: What role does happiness play in your life?
Markus Heitz : Happiness? Indeed I am happy. I am married to a beautiful woman. I lead the life I've always dreamed of, writing books and owning my own Irish pub. For me, there is simply no better way. I don't care too much about the money I earn. If it's enough to live on, it's alright. I worked for a daily newspaper as a freelance writer and photographer for ten years. Not exactly big money, but a lot of interesting folks and stories! It was the same job day in and day out, but with different faces, new information and new insights into cities. I was about 90 per cent happy with my job. Happiness for me also means being with friends, talking and spending time with them. Friends play a big part in my life.
The problem is, that most people don't recognize that they could be happy like this; be happy with what they have. But they still look at others and want to lead a life like them. That's absolutely nonsense. It's a sure-fire way to spoil your mood.
Wirtschaftswetter: How you do balance the sweet with the serious in life?
Markus Heitz : You simply have to accept the serious in life: income tax, doing housework – things like cleaning the bathroom (including the toilets), bad TV programmes, the smell of rubbish, the dealings of politicians and many other things you can't escape. The trick is to face them, deal with them and forget them. I have no problems with this. A few cups of good tea (I like different types of Assam tea, Earl Grey too. No Redbush, no green tea - too healthy for me) and the clouds disappear. Tea is the best medicine.
Wirtschaftswetter: What do you perceive to be the most pressing problem in the world today?
Markus Heitz: Fuel and energy.
Why?
Because all of our biggest problems involve fuel and energy. The hurricanes showed us how easy it is to paralyse the world markets. Take the oil away and the world stands still. There must be other ways to produce energy, completely independent from oil, but the lobbyists aren't interested.
We have some good scientists and new types of powerplants, and I am not talking about solar and wind energy.
Much depends on it, not only cars and industry. If we solve this problem – by finding a source of energy that is easy to produce and to use – the now poor countries in the world will have a chance to help themselves out of misery. At this moment, dealers are selling the old cars of the rich world to the so-called Third World - and making money again with fuel.
Wirtschaftswetter: Would you like to pass on your personal tip on getting the most out of life? Say on what to eat or drink, where to go or what to see?
Markus Heitz: There's no better drink than a good cup of tea. Add a few spices (cinnamon, cardamom, ginger or whatever else you like), boil it with milk and honey – food for your soul.
I love Indian food. Full of spices, full of the Orient and great mood food. Chicken in cinnamon and yoghurt sauce, and shrimps in coconut and chilli sauce. The next best thing to heaven!
Places I like to go: cemeteries. I visit the cemetery in every city I go to. I like looking at gravestones, finding the last words that express the personality of the person buried there. My two favourites are "I am not dead. I just changed sides." and "Till then." Cemeteries are places of silence, power and remembrance. You will lie there someday, but until then, live!
Some books of Markus Heitz: Die Zwerge, Der Krieg der Zwerge, Die Rache der Zwerge (all Piper), The Ulldart series (also Piper), Jede Wette (Heyne), Sturmvogel (Heyne) and many more.

2005-10-27 by Anelika Petrich-Hornetz + Carol Stocks
Text: © Angelika Petrich-Hornetz
und Gesprächspartner: Markus Heitz
Banner: Angelika Petrich-Hornetz
>Lektorat: Carol Stocks
Infos zu Datenschutz + Cookies
back to: Wirtschaftswetter International
2003-2020wirtschaftswetter.de
© Online-Zeitschrift Wirtschaftswetter®