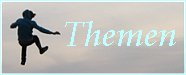 Medical help comes out of the sky
A German doctor with The Royal Flying Doctor Service
by Astrid Wehling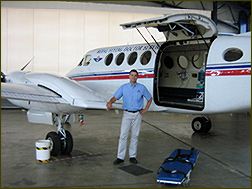 Just imagine yourself having an accident. A fall from a horse or from the roof while cleaning the gutter. Or you are having an accident with your car, rolling over and down a hill. That would be annoying, hurtful or even dangerous in Hamburg, Munich or Trier. But it would be something that could be looked after quickly.
It's a different story in Australia.I am not talking about Sydney, Melbourne or Perth, I am talking about the Australia outside of the big cities. Thousands of kilometres of empty Outback, with small countrytowns or settlements. With stations as large as Schleswig Holstein (a county in Germany). Areas without dentists, specialists or midwives. Here a fall, a snakebite or a complicated birth could easily become a lifethreatening situation.
There was a dream
Reverend John Flynn, who 80 years ago built hospitals and hostels in the Outback, had a dream. A dream of allround medical care for all the settlers in the Outback. In 1928 only two doctors were responsible for almost two million squarekilometres, when the Reverend founded the Aerial Medical Service - today worldwide known as the Royal Flying Doctor Service.
Out of the first beginnings with a small wooden plane has developed an organisation that guarantees highly professional medical care well into the very last corner of this big Australian continent. Until 1960 the RFDS was dependent on 'chartered' planes and professionals, today the Service owns 50 planes with the best technology possible, 22 base stations. 71 doctors, 1 dentist and 115 nurses look after around 240,000 patients each year.
Where does it hurt?
A working day for the medical officers at the RFDS doesn't just include emergency calls. One of the most important services the RFDS provides is the assistance via telephone, 24 hours, 7 days a week, as well as the regular consultation days at the stations and in small towns. A welcome opportunity for the people out there, to meet and to talk to the doctors and flight nurses about their health problems or any concerns.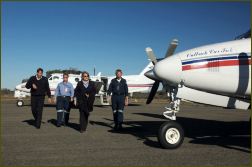 Stations, pubs, police stations and national parks that are more than 18 km away from the next doctor or hospital get a medical chest and a so called body chart supplied by the RFDS – with the help of the body chart and a special numbering system the doctor is able to give the right information or diagnosis over the phone. The medical chest contains medicine which might help until doctors can see the patient or which might even make a vist unneccesary. Those chests are controlled regularly by the RFDS.
Since many years the Flying Doctors are an important part of life in the Outback and in Tasmania. People who live there are thankful and highly respect the doctors, nurses and pilots and their work.
German Doctor on board
One doctor, who experiences at the moment the hard but fulfilling work with the RFDS is Dr Info Stormer.

Working since October 2006 at Dubbo base, approx. 400 km west of Sydney, he and his wife Pia have settled well: "Whilst on training, in my first weeks with the RFDS, we were called to a station to look after a man who collided with an Emu", he describes his first contact with his new and surely unusual workplace.

Dr Stormers position as medical officer in Dubbo was vacant for more than two years – lack of medical professionals in Australia unfortunately shows first in country areas. So it's more than understandable that Dr Stormer was welcomed with open arms. Astrid Wehling had the opportunity to ask him a few questions:
Wirtschaftswetter: Dr Stormer, you are working with the RFDS since October 2006. What is your background, where do you come from?
Dr. Ingo Stormer: I was born and grew up in Hagen/North-Rhine-Westphalia, in West Germany. After finishing my community service (instead of military service) I moved to Cologne to go to University. Later I was medical resident at the German Centre of Aerospace, where I had already worked as an intern while studying. I then lived in Duesseldorf before I moved back to Cologne with my wife.
Wirtschaftswetter: What is your special medical field?
Dr. Ingo Stormer: In 2000 I decided to combine my interest in the cardiovascular system and in health care. I started my training as an anesthesiologist and intensiv care specialist at the University Hospital of Duesseldorf. Since 2005 I was working as a specialist in ICU and since 2006 I have additional qualification as intensive care medical specialist. I was also working for years with the medical emergency services in Duesseldorf.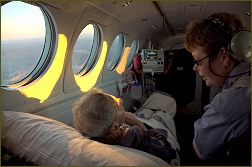 Wirtschaftswetter: Did you have to undergo special assessments and tests to be able to work in Australia?
Dr. Ingo Stormer: I was interviewed by a commission of the medical association of New South Wales before I got the approval. The interview was done via video conference and was very professional. It seemed to me that the commission was very experienced in doing remote interviews.
Wirtschaftswetter: Why the RFDS? There are much more doctors missing in various places in Australia.
Dr. Ingo Stormer: My wife Pia and I had planned to move abroad in 2006 but we never thought of Australia. It was the actual offer that made us come. The RFDS is the oldest and I think the best known flying medical service worldwide. The places we fly to are very interesting and there is a lot of variety in the work. I never know in the morning if I would end up at Sydney or Wilcannia in the afternoon, if my next patient had a traffic accident or an heart attack. I often organise and do a lot of work on-site before I can even think of transporting the patient. The pilots and the flight nurses are highly professional and very kind, it is very pleasant to work with such a good team.
My position includes one day per week at the ER at the local hospital and one day per week teaching at the University of Sydney. The combination of all three positions was what made the offer so compelling. Being able to work and live in Australia is an additional plus. We like it here very much, my wife has an interesting job at Dubbo University and we have already met lots of nice people.
Wirtschaftswetter: Could you describe Dubbo, the town where you and your wife live?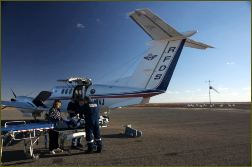 Dr. Ingo Stormer: Dubbo is a regional centre in country New South Wales with approx. 40.000 people With all shops, restaurants, cafes, movies and what else you look for. We have the Charles Sturt University and the School of Rural Health of Sydney University. It's an agricultural area and it is suffering very much from the long drought. Closeby are spectacular National Parks and it's not far to the coast, to Newcastle or Sydney. Dubbo is the last major town before the Outback begins and is often called the last frontier.
Wirtschaftswetter: Could you explain to us a typical day with the RFDS?
Dr. Ingo Stormer: There are no typical days. Actually, that is what makes working for the RFDS so exciting. Anything can happen anywhere within the next five minutes. I work with lots of different people, I look after patients in small hospitals or on the back of an ute. I look after pregnant women in critical situations, after patients that have been in traffic accidents, people who got bitten by a snake or kicked by a horse. People with kidney failure or victims of mining accidents. Some patients need little care, others I have to treat for hours on-site before I can even think of a transport. Sometimes I need help and advice from colleagues at major hospitals via phone or satellite. That way it can be assured that the specialist in Sydney or any other bigger city already knows enough about the case when the patient arrives at his hospital.
Wirtschaftswetter: Who else is on the plane? And how much do you know of flying, in case of an emergency?
Dr. Ingo Stormer: I kow nothing about flying and our pilots are so well trained that they can handle an emergency on their own. By the way – our pilots are better trained and experienced than most of the other professional pilots. I trust them 100 %.
Our plane here in Dubbo is – like all planes of the RFDS in South Eastern Australia – a two engine Turboprop Beechcraft Kingair. With pressurised cabin, two beds (one for intensive care), three seats close to the beds. We fly in high altitudes sometimes as high as intercontinental flights. The pressurised cabin provides, other than in a commercial plane, an inside atmospheric pressure compared same as on sea level. We have our own power supply for all medical equipment and of course medical gas supply for oxygen mask and ventilator.
There is always a flight nurse on board. All are studied nurses, have additional qualifications, especially in emergency care and intensive care and are also trained midwives. They are all extremely professional and experienced and it would be hard to find better people for emergency care.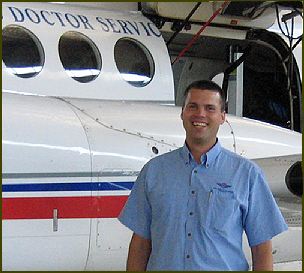 Wirtschaftswetter: What was the biggest challenge you met so far?
Dr. Ingo Stormer: Once I had to look after a couple of serious injured patients at the same time. But thanks to the great teamwork of local nurses, paramedics, flight nurses, a local doctor and bystanders we were able to transport them all into major hospitals in Sydney. This was with 15 hours my longest working day so far.
Wirtschaftswetter: Is there anything that made a really big impression to you?
Dr. Ingo Stormer: The appreciation and thankfulness of the people of the Outback for the RFDS is breathtaking. I have seen it a couple of times when people, patients, relatives, neighbours, drop their work when they see us flying in, just to thank us and bring us some refreshments. Some come and ask if they could help, others just thank us for the good care of their 'mate'. This is a great feeling and very inspiring for us to provide the best care possible under these sometimes special circumstances.
Wirtschaftswetter: Could you say that the work with the RFDS gives you something that you missed working in a hospital?
Dr. Ingo Stormer: The work with the RFDS is completely different to what I did at the hospital. You can't compare it. I loved my training and my work at the University Hospital of Duesseldorf. The work there was often a challenge too. Especially the techniques and qualifications I gained at the ICU are very valuable to me. I had really nice colleagues and I still miss some of them as much as the possibilities and opportunities you have in a big hospital. But to fly over the Blue Mountains, in the evening sun, towards Sydney, with a patient well cared for, that is something really special.
Wirtschaftswetter: If you had a wish for the RFDS – what would that be?
Dr. Ingo Stormer: Even with many Australians donating money and with money also coming from the government – running a service like the RFDS is always very expensive. We are always happy about donations, maintaining planes is very expensive.
And I would be very happy to welcome more professional colleagues who are interested in working for the RFDS. Especially here in Dubbo I would ove to see a colleague, specialised in anesthetics, or an emergency and ICU specialist, an internist - who would be interested in working under our special requirements.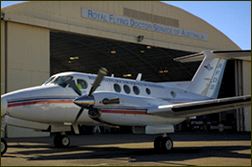 Wirtschaftswetter: What does a flying doctor do when he's not up in the air, but on a day off?
Dr. Ingo Stormer: My wife and I we love hiking. We have some amazing National Parks here where we already did some great bushwalks over a couple of days. Of course we also go to the beaches on a weekend. We have found some nice friends in very short time and we meet for BBQs, parties, sport and such. Four month ago we found a dog, or better he found us, who keeps us busy in the evenings. But now we re looking forward to our first holidays, we will go and visit Western Australia.
Wirtschaftswetter: Dr Stormer – it's a shame that we don't have much time and space left, I found your stories very amazing and exciting. Thank you for your time and this interview and we wish you and your wife a great time here in Australia.
German: Fliegende Ärzte in Australien
More information:
Royal Flying Doctor Service of Australia (RFDS) - Section South East

2007-07-26 Astrid Wehling, Wirtschaftswetter
Text: ©Astrid Wehling
Illustration: ©Angelika Petrich-Hornetz
Fotos: ©RFDS South East
Foto Themenbanner: Dr. Elisabeth Kärcher
Infos zu Datenschutz + Cookies
zurück zu: Themen
zurück zu: Startseite
wirtschaftswetter.de
© 2003-2022 Wirtschaftswetter® Online-Zeitschrift